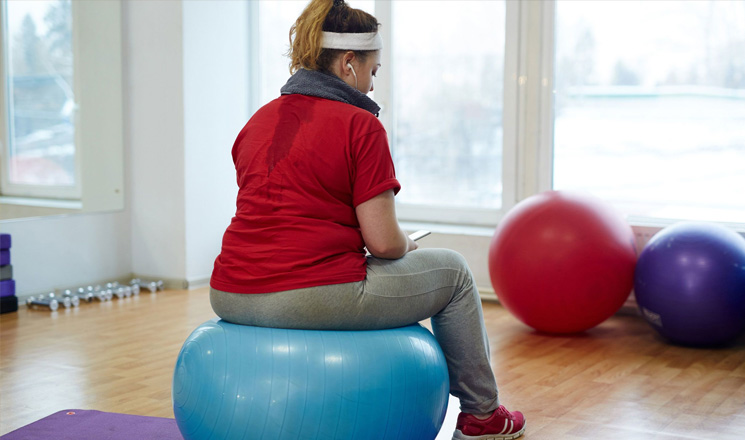 Lose Weight
It is measurable decline in body weight either intentionally (change in diet or lifestyle) or from any illness. Healthy weight loss refers to loss of unwanted fat from body.
Safe weight reduction takes time and effort, but by making lifestyle changes that incorporate proper nutrition, physical activity and with the help of some advanced technologies like HIFU, Endermology etc, you can lose and maintain your weight for the long-term.
It's never too late to lose weight!!!
It is never too late for overweight people to lose weight to improve their health, according to a new study.
People who are obese in their mid-twenties are more likely to suffer serious weight problems later in life. It is a person's current weight rather than how long they have been obese for – that influences their risk of heart problems and diabetes.
The following changes not only keep you healthy, they can help slow down the aging process, inside and out.
Be active more often.
Exercise lowers your risk of heart disease, type 2 diabetes, high blood pressure, and some cancers, and that powerful effect leads to something experts call "compression of morbidity."
Improve your diet.
There are all sorts of plans out there to help you lose weight, but it's not only about dropping pounds.
Get quality sleep.
Lack of sleep impacts your memory, emotions, weight and even your appearance. The older you get, the harder it can be to fall and stay asleep, but you still need the same amount of hours.
Stop smoking.
In as little as 24 hours of stopping smoking, there is a decrease in risk of a heart attack.
Treatments.  
There are treatments and therapies which help to loose proper weight as well as inches naturally. These treatments are non surgical, non invasive, scientifically proven without side effects. Cavitations, Endermology, Radio frequency serve the purpose.
Working Mom's and weight loss
Women usually at the age of 40 years find themselves standing in front of the mirror and fail to guess when and how did they happen to lose the grip on their slim, slender and fragile stature.
Women now-a day have a multi tasking role and it's just not limited to the house hold chores.
Behind house errands to run, office work to handle, keeping kids occupied, meals to cook and in laws to take care, keeping the pace running between home and job taking care of yourself easily slithers down to the bottom of your list of priorities. You do realize that it's important for you to stay healthy, slim and fit, but it can be more difficult to channelize time for healthy diet and regular exercise. But one thing females are known for is 'Never say never'. Lot can be said on good diets to follow, set of so called easy exercises to follow but the fact is they become a simple notion which you want to do but can't do. So fortunately there are few tips which women can find handy.
Practical tips for working moms trying to lose weight
Make a schedule, prioritize your to do list. It's okay if you remove few unimportant errands from your list. Learn to say no to stuff which take your unnecessary time.
Stop counting calories. Instead have proper meals, concentrate on quantity, small meals small time even if it is like putting a slice of apple in the mouth when moving around with the chores. Start squeezing lemon drops in the water whenever you have it that might work as a good Detox plan. Minute changes like replacing all purpose flour with rice flour, stevia leaves instead of sugar will make huge difference in your routine meal pattern. N yes the very important thing, never skip breakfast.
Have proper dinner with the family together that gives you a wholesome feeling as well the food taken is contended one even if you reduce the quantity when sitting and eating with your loved ones. No need to cook separately for yourself, try incorporating your diet with the family which obviously would be healthy.
Sleep is another important factor. Your body functions well if you have enough sleep. Time your sleep with your little ones sleep pattern.
Last but not the least, your dose of action. Try walking the stairs all the way to your home on whatever floor instead of elevators or escalators; keep your car parked at little distance away from the place you intend to visit so that you can walk it off. Once you open your eyes in the morning from sleep try doing meditation, crunches etc on the bed even if it is for just 10 mins before you out your legs out of the bed. There are various treatments and therapies which help to lose proper weight as well as inches naturally. These treatments are non surgical, non invasive, scientifically proven without side effects. Laser, Endermology, Radio frequency serves the purpose.
Why I AM Fat?
Obesity is the complex disease with strong genetic, environmental, cultural and physiological determinants. All though an individual may be genetically predispose to obesity; it primarily arises from a combination of environmental and behavioral factors, ultimately resulting in imbalance in energy intake and expenditure.
Genetic – Overweight and obesity tend to run in families. Your chances of being overweight are greater if one or both of your parents are overweight or obese.
Environmental:- the environment and culture in which individuals live exert huge influences on the development of obesity and over weight
Eating Habits -Changing eating behavior (snaking / eating frequency, binging, eating out)
Lower consumption of non-starch polysacchrides and dietary fibers
Higher intake of energy-dense, micro-nutrients-poor food those are high in fat, sugars and starch
Lack of physical activity- One reason for this is that many people spend hours in front of TVs and computers doing work Health conditions – Co morbid disease (e.g. endocrine problems, hypothyroidism, Cushing's syndrome, tumors [e.g. hypothalamic, insulinoma]) ,pituitary disease and damage, growth hormone deficiency, polycystic ovary syndrome)
Age – As you get older, you tend to lose muscle, especially if you're less active. Muscle loss can slow down the rate at which your body burns calories.
Lack of sleep -People who sleep fewer hours also seem to prefer eating foods that are higher in calories and carbohydrates, which can lead to overeating, weight gain, and obesity.
5. Obesity statistics
Worldwide obesity has more than doubled since 1980.
Today, 2.1 billion people – nearly 30% of the world's population – are either obese or overweight, according to a new, first-of-its kind analysis of trend data from 188 countries.
More than 50% of the world's 671 million obese live in 10 countries (ranked beginning with the countries with the most obese people): US, China, India, Russia, Brazil, Mexico, Egypt, Germany, Pakistan, and Indonesia.
Over the 33-year period of research, the Middle East showed large increases in obesity. Bahrain, Egypt, Saudi Arabia, Oman, and Kuwait were among the countries with the largest increases in obesity globally.
Global obesity rates among men went up from 3.2% in 1975 to 10.8%, while among women they rose from 6.4 % in 1975 to 14.9%.
Rates are also on the rise among children and adolescents in the developing world, where nearly 13% of boys and more than 13% of girls are overweight or obese.
The rise in obesity among children is especially troubling in so many low- and middle-income countries,
INTENSE PULSED LIGHT THERAPY
Intense pulsed light (IPL) or flash lamp therapy is a non-invasive and non-ablative treatment that uses high intensity pulses of visible light to improve the appearance of the following skin problems:
The procedure of rejuvenating aged skin is referred to as photo rejuvenation and requires a series of IPL treatments.
IPL may also be helpful for mild to moderate acne and stretch marks.
How does it work?
IPL systems work on the same principles as lasers in that light energy is absorbed into particular target cells with color (chromophores) in the skin. The light energy is converted to heat energy, which causes damage to the specific target area.
TREATMENT for:-
Pigmented lesions
·         For treatments of freckles, age spots, skin discoloration

problems such as melasma/chloasma and erythromelanosis

of the neck.

·         Light pulses targeted at the melanin in the skin's surface

which heats and destroys melanin to remove the discoloration.

For the treatment of age spots, freckles, flat pigmented birthmark,
 melasma / chloasma and erythromelanosis of the neck (poikiloderma of Civatte).
Light pulses targeted at the melanin in the skin's surface which heats and destroy melanin to remove the discoloration.

Hair removal

For the treatment of unwanted hair.
Light pulses targeted at the hair follicle causing the

hair to fall out and prevent further growth.

Generally ineffective for light colored hair.

May be used for hair in any location including underarms,

bikini line, face, neck, back, chest and legs

For the treatment of unwanted hair.
Light pulses targeted at the hair follicle causing the hair to fall out and prevent further growth. Generally ineffective for light colored hair.
May be used for hair in any location including underarms, bikini line, face, neck, back, chest and legs