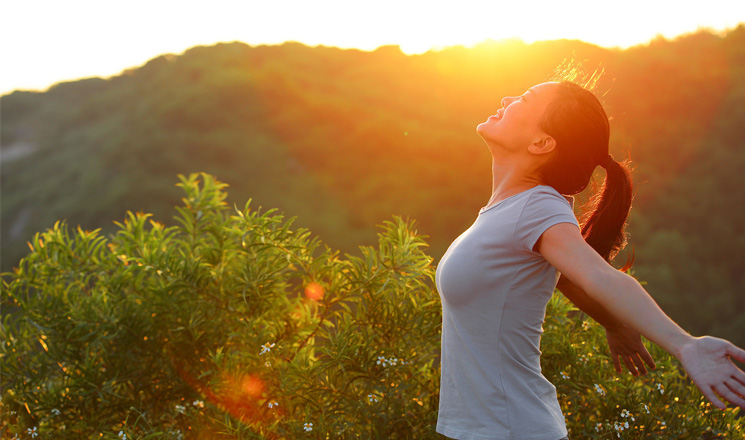 Natural Ingredients for healthy life
1.Basil:  Basil or Tulsi is known to possess an abundant amount of medicinal properties and has being used for various disorders since thousands of years ago. Tulsi is known to be rich in vitamin A, K and E, calcium, iron, magnesium and potassium and so is essential for vision, production of clotting factor, keeping mucosa and skin healthy, protection against various types of cancer, bone strengthening and mineralization, control heart rate, blood pressure. It has anti bacterial properties due to eugenol which is antimicrobial substance for fighting bacterial infection. It is a proved to have good antioxidant properties as well as anti inflammatory properties and hence not only helps in cardio vascular disorders but also in lungs, digestive, oral and hormonal health.
One can have basil fresh or dried in soups, salads, pesto, or can be sprinkled on the omelet, veg fried. Basil tea is found to relieve nausea, give a soothing feeling internally as well as has anti septic properties.
 2.Bay leaves : Bay leaves are known for their culinary uses as well as for the medicinal properties for being anti-inflammatory, anti-fungal, anti-bacterial, astringent and diuretics properties. The spice contains vitamins, minerallike copper, potassium, calcium, manganese, iron, selenium, zinc and magnesium which controls heart rate and blood pressure, production of red blood cell, active components such as a-pinene, geranyl acetate, eugenol, and chavicol. These compounds are known to have been antiseptic, antioxidant, digestive and anti-cancer properties.
Bay leaves when dried completely are brewed into tea, are best used as a spice to bring about an aromatic taste in various cuisine such as poultry, seafood's, rice dishes, vegetables preparations etc. One needs to be careful when selecting true bay leaves as the other variety can prove to be toxic. Pregnant ladies need to avoid the excess use of these spices.
3.Camphor: Camphor as we know as a powerful ingredient for the religious ceremony and also acts as a room freshener, but very few know that it all the more loaded with the beneficial medicinal properties. The main components of camphor essential oil are Alcohol, Borneol, Pinene, Camphene, Camphor, Terpene and Safrol. Camphor essential oil not only have penetrating and magical aroma, but also have many medicinal properties such asstimulant, antispasmodic, antiseptic, anesthetic, sedative, decongestant, antineuralgic, anti-inflammatory, disinfectant, and insecticide substance.
Camphor can be used as liniment in the form of pain relief spray by mixing 2 drops of camphor oil with pure alcohol or as a vapor rubs or with other oils in aromatherapy. It is strictly not to be ingested as these are toxic and fatally poisonous. It is highly flammable, so use it with caution.
4.Chia seeds: No matter the size of small Chia seeds, they are packed with proteins, healthy fats, dietary fiber, minerals, vitamins, and antioxidants. They are an excellent source of omega-3 fatty acids, which increase the HDL cholesterol, which protects against heart attack and stroke.Chiaseedsprovide fiber, iron, and calcium and are most widely used for weight loss.
These seeds can be incorporated in the diet by simply sprinklingon yogurt, oatmeal, cereals or smoothies. They taste good when cooked, and added to bread and muffins.Small children should not be given chia seeds.
5.Cinnamon: Cinnamon is best known for its spices effect in the food. Not only in the foods but its usage has long being recognized as medicinally valuable for cough, cold ,sore throat, feverand arthritis.Cinnamon has high amounts of calcium, fiber and manganese, as well as antibacterial, antifungal, antimicrobial, antiviral and antioxidant properties.cinnamon not only decreases blood glucose levels in people with Type 2 diabetes, but it also reduces low-density lipoprotein cholesterol, triglycerides and total cholesterol.
Cinnamon goes best with the any food either in powdered form or in bark form. The powder of cinnamon stick can be incorporated while making tea, porridge etc.While moderate amounts of cinnamon appear to be safe, quantities more than 6 grams per day may affect blood thinner medications or have a negative impact on blood clotting,
6.Coriander :Coriander has being an integral part of the indian cuisine, seeds as spices and leave for garnishing the various dishes. Coriander has its share of medicinal properties too.It is a excellent source of potassium, iron, vitamins A, K, and C, folic acid, magnesium, and calcium.
Coriander has anti-inflammatory properties. Coriander lowers bad cholesterol (LDL) and increases the levels of good cholesterol (HDL).It can stimulate the insulin secretion and lower the blood sugar levels thus helpful for Diabetesvery good food for digestive system, coriander promotes liver functions and bowel movements.
Corriander can be added to the spice mixture or used for garnishingfor the food items. Soups of the coriander stem is the best for building immunity.
7.Fennel :Fennel has being used since ages for its medicinal benefits.Fennel contains phosphorous, zinc, copper, manganese, selenium, niacin, pantothenic acid, folate, choline, beta-carotene, lutein, and zeaxanthin, vitamin E, and vitamin K.Fennel is used for digestive problems including heartburn, intestinal gas, bloating, loss of appetite, and colic in infants. It is also used for upper respiratory tract infections, coughs, bronchitis, cholera, backache, bedwetting, and visual problems
Fennel seeds should not be consumed  in large amounts. Compounds in fennel may be neurotoxic in higher concentrations and may cause hallucinations and seizures
8.Garlic : Garlic is one of the best nutritional spices in the world. It is not only the storehouse of organic selenium and germanium but also contains vitamin B1, B6, C, calcium, potassium, phosphorous, iron. It is widely used for treating ear infections, cholera, clod and cough. It also helps lower cholesterol and blood pressure, improves circulation and lowers blood sugar levels. It again has the best anti viral, anti bacterial, anti fungal properties.
The medicinal benefits of garlic are strongest when it is raw and crushed or very finely chopped than the cooked ones. Garlic intake should be in control or best avoided for asthmatic patients as well as before and after surgeries.
9.Ginger: This herb has many health restoring as well as preventive properties. It is excellent source of Vitamin B6 (pyridoxine), B5 (pantothenic acid), minerals, such as potassium, copper, magnesium and manganese. Ginger is used for the treatments of motion sickness, colic, upset stomach, gas, diarrhea, nausea even from cancer treatment, HIV/AIDS treatment nausea as well as loss of appetite. It relieves the pain from arthritis, menstrual disturbances, back pain, lung infection, toothaches etc.
Ginger can be used in any food preparation items, can be consumed as ginger soups during cold and coughs. Ginger tea comes as an handy source for healthy living conditions.
10.Turmeric: Turmeric is used for its anti-inflammatory, carminative, anti-flatulent and anti-microbial properties.
The herb contains health benefiting essential oils such as turmerone, zingiberene, cineole, and p-cymene.  It is rich in antioxidants and dietary fiber, which helps to control blood LDL or "bad cholesterol" levels. It is very rich source of many essential vitamins such as B6 choline, niacin, and riboflavin, vitamin-C which is powerful natural antioxidant, helping the body develop immunity against infections.
It is used in various spices, can be used in marination of fish, poultry, preparations of soups, salad dressings. Turmeric leaves are added to flavor sweet dishes.
11.White Lotus: The flower IS blessed with the medicinal properties in all the parts, stem, leaves , flowers. Lotus flowers contain linoleic acid, protein, phosphorus, iron and vitamins B and C and so are used to improve both the texture and condition of face skin. Tea brewed from the nutrient-rich lotus treats acid reflux and gastric ulcers and improves overall health. It has its role in treating diabetes, cholesterol, weight loss, stress relief also. Young, clean and tender ones can be added raw to salads. In some part of the world they are consumed in the form of chips and soups